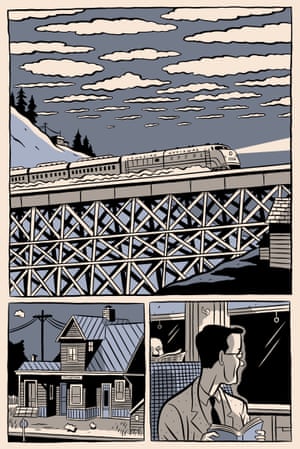 Clyde Fans by Seth. Illustration: Seth / Drawn & Quarterly
New York Review Books continues to expand its excellent list of comics, and this year Id pick out Return to Romance, its new collection of strips by Ogden Whitney. These cartoons, which date from the late 1950s and early 60s, subvert the form of the romantic comic strip by depicting love as a devastating power struggle: a form of psychological warfare fought by women in twinsets and pearls, and men in flannel suits and trilby hats. Whitney, the creator of the unlikely superhero Herbie Popnecker, remains a shadowy figure (born in 1918, he died in the early 70s, seemingly from madness and grief), and his romances are marked by the sexism of the era in which they were written. But theyre also very funny and savage and knowing. Daniel Clowes and Liana Finck (who introduces this book) regard him as something of a hero, and once you know what hes about, its not hard to see why.
Finally, two beautiful books that are connected by Korea (both are published by Drawn & Quarterly). The first is Palimpsest: Documents from a Korean Adoptionby Lisa Wool-Rim Sjblom, in which the author, who now lives in New Zealand, tells the story of the search for her birth parents. The second is Grass by the award-winning Korean comic artist, Keum Suk Gendry-Kim: a novel about a Korean girl who becomes a comfort woman during the second world war, having been forced into sexual slavery by the Japanese imperial army. Quietly heartbreaking and devastatingly striking to look at, this might well be my graphic book of the year.
To order any of these titles for a special price click on the titles or go to guardianbookshop.com. Free UK p&p over 15