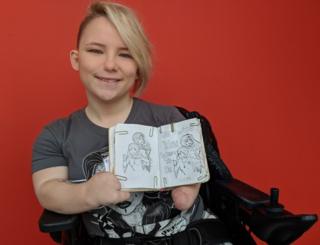 A teenager who lost her hands and feet to meningitis as a baby is now heading to art college with hopes of becoming an illustrator.
Taylor McTaggart contracted the deadly infection when she was five months old and had to have her limbs amputated.
Now, aged 17, she is starting a course at Glasgow Clyde College.
Speaking on BBC Radio Scotland, she said people did not expect her to be able to draw and she loved proving them wrong.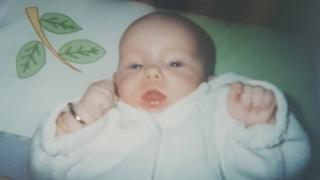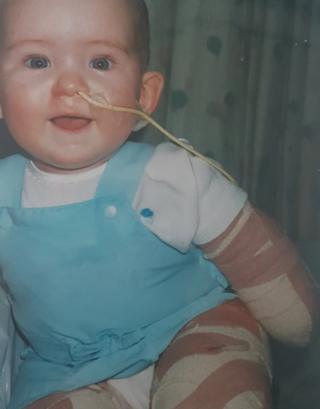 Taylor contracted meningitis as a baby and had her hands and feet amputated a few months later after doctors warned it was necessary to ensure her survival.
For the teenager, being a quadruple amputee is " just the way things have always been" and she says she has never let anything get in the way of being "normal".
"I've never known life any different, because this happened when I was really young," she told presenter Kirsty Wark on BBC Scotland's Mornings programme.
"I've always done stuff at the normal age. I was walking at a normal age, crawling at a normal age, I was writing my name at a normal age. At nursery I was the first person to write my own name."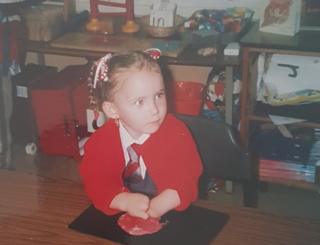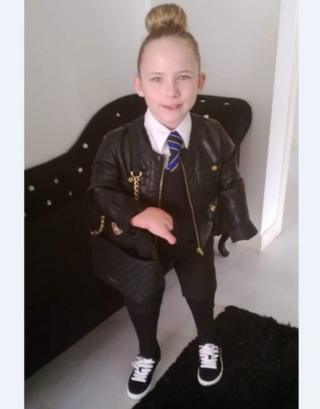 Taylor started drawing at a "normal age" too – aged about two or three.
And although she's always enjoyed it, it wasn't until she got to secondary school that she really started to develop her passion.
"When I went to high school I realised I wanted to get more into art and make it a serious career."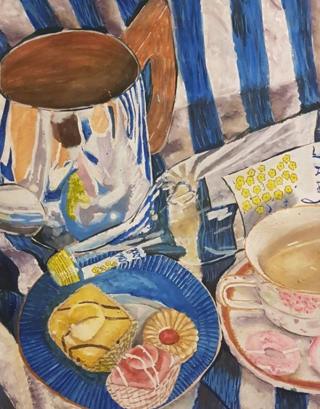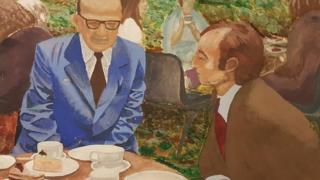 The 17-year-old was spurred on by an enthusiastic art teacher who supported her and urged her to consider taking it further.
"He always encouraged me to do my best and told me I will go far," she said.
Taylor has also been backed by her mum who "never treated me different" and "always pushed me".
While her school art work includes more traditional water colours and still lives it is the cartoon and comic book style that she likes most.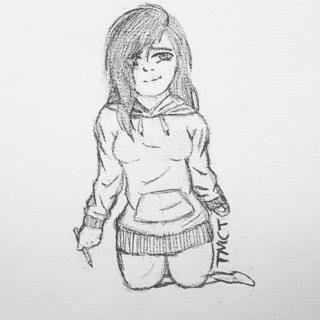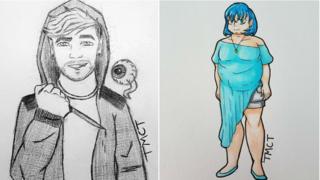 "I love the cartoon style and Manga-style characters, but I have my own style," she said.
"It's fun to explore different ways to draw."
The budding illustrator also uses her drawings as a way of expressing her feelings and raising awareness about her disability, with one of her recent creations titled "Life in a wheelchair".
"When things annoy me I have to draw them down and I want to show them to people and just bring awareness to it," she added.
"When people first meet me they don't expect me to be able to draw, or actually do anything. They just think 'she's lost her hands and feet, she can't do anything, she just sits there in a wheelchair'.
"But I've never known life with hands and feet. There's never been anything different for me."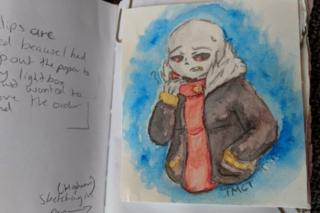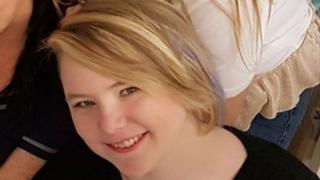 Her art is also a means of escape when life feels tough and she says it makes her look on the bright side.
"I like making a joke out of my art. There is always a meaning behind it. I like to see the funny side," said Taylor.
The teenager, who has already turned "a wee corner" of her bedroom into an art studio – starts her college course on Tuesday and is looking forward to what the future might bring.
"I am really excited. I think we'll be starting our sketchbooks," she said.
The Art and Design course will allow her to expand her portfolio and she then hopes to study illustration.
"I want to get better at my art and keep improving. I never want to stop drawing."
All images are copyright Taylor McTaggart.
Read more: http://www.bbc.co.uk/news/uk-scotland-glasgow-west-45320732